Eva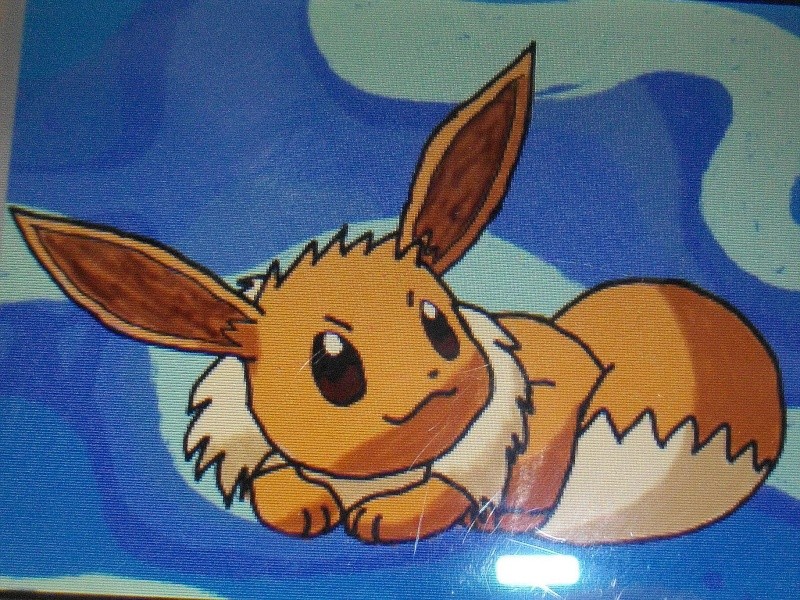 (made by me, before my 3DS messed up)
Species:
Eevee
Pokédex Number:
#133
Type:
Normal
Gender:
Female
Age:
13
Level:
Lv. 13
Moveset:
Iron Tail, Bite, Dig, Shadow Ball
Description:
Only thing that the picture doesn't have is the navy-blue bandanna she wears.
Personality:
Eva loves to help others. She can only remember arriving in the realm, and helping others. She can get protective and doubts herself often when it comes to fights. Yet, she trys hard. While she remembers fuzzy things before the realm, she trys not to dwell on the past. Her Motto is "It's not that I hate you. It's not that I like you. It's the fact that I love you, and nothing can change that. I love you because of your flaws. I love you... Because you're you.", a quote from herself.
Likes:
Food, friends, helping, music, in-equality's between Pokemon(differences), and dancing.
Dislikes:
"Full Equality"(no differences), bullies, Pokemon who give up quickly, battle, and full-blown silence.
Items:
Navy-blue Bandanna
History:
Eva fell into the realm, falling from a hunter plane in late June. She woke up, scared. She searched for hours for someone she knew, her mother. But then she remembered she was taken from her family. Tired from the search, she layed down and slept. When she woke up, she was in a flower garden. She found it very beautiful, and found herself making a small home in the field of flowers. There was a rock, flat as a stage, and so she sang and danced on it each night. Finding some materials, and a coconut shell, she made a somewhat decent watering can. One day, as she was watering the flowers, she heard a scream. She dropped the watering can and ran straight for the scream, finding it was a Skitty dangling off a cliffside. Not hesitating, she took her bandanna and lowered one side to the cat pokemon. She pulled the Skitty up, and smiled. "Are you okay? That must have been quite a scare." she said.
"Yes, mewh~! Thank you!" the Skitty replied before running off. Eva then made a small Health-Stop on Stage Rock, the rock she sang and danced on.
~~~~~~~~~~~~~~~~~~~~~~~~~~~~~
Example RP:
2. A secret admirer confesses their love to Eva.(using another OC that is going to be sent in for acceptance)
Rio ran up the the small brown dog-like creature, flowers in paw. "Hey, E." he said, hiding the bouquet.
"Oh, hey, Ri. What's up?" she asked, beaming.
"I was just wondering... If a fighting-type told you they loved you, and it was a male... Would yo-"
"I'd thank him and say 'Not yet. I'm not ready.' Why?" she asked.
Rio held the flowers out and blushed. "N-Not cause I like you like that or anything, it's thanks for helping me fix the berry fields." he huffed.
"Rio?"
"Yeah?"
She gave him a kiss on the cheek. "It's a nice gesture... But I'm sorry to say, I'm not the same... But thanks for the flowers." Holding the flowers on her back, she walked off, a blush on her face.